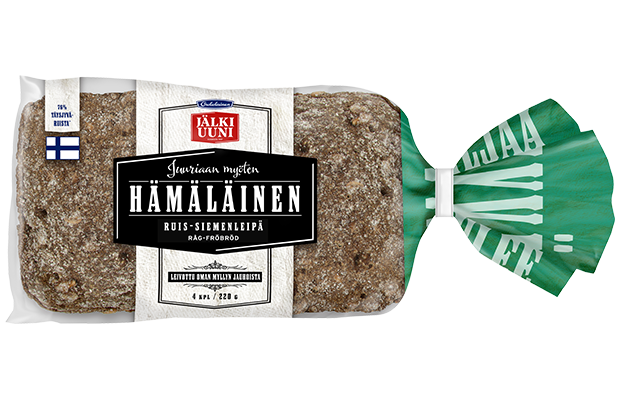 GTIN (EAN):
Oululainen Jälkiuuni Hämäläinen Ruis-siemenleipä 4pcs 220g, wholegrain rye bread
Sign in or register to see price details and place an order.
Sign in
Register
Product details
GTIN (EAN):
6413467506901
Organization:
Fazer Bakery
Name of the food:
whole grain rye bread
Portions/consumer package:
8
Net weight of consumer package:
0,22 kg
Measures of consumer unit:
180 X 110 X 50
Preparation Classification:

Product description
Jälkiuuni Hämäläinen Ruissiemen is a delicious dark portion bread with a strong rye flavour. Seeds bring a pleasant character to the structure and taste of the bread. In the low heat of the oven, the slow baking results in a wonderfully rough surface and delicious interior. Exceptionally delicious with just real butter but you can also try to add different toppings to create yourself a moment of indulgence. A bread from Hämäläinen through and through.
Ingredients
whole grain RYE (59 %)(flour, grain), WHEAT flour, seeds (11 %)(sunflower, melon, yellow flax), water, RYE malt extract, yeast, iodized sea salt, RYE BRAN. 76 % of the grain in bread is whole grain rye. Origin of seeds EU and non-EU.
Suitable for diets
Other features