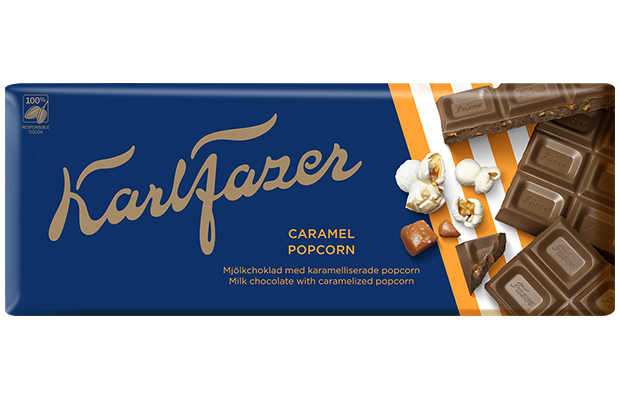 GTIN (EAN):
Karl Fazer Caramel Popcorn 200g
Sign in or register to see price details and place an order.
Sign in
Register
Product details
GTIN (EAN):
6416453014312
Organization:
Fazer Confectionery
Name of the food:
Milk chocolate with caramelized popcorn
Net weight of sales unit:
4,2 kg
Gross weight of sales unit:
4,51 kg
Measures of sales unit:
250 X 95 X 275
Remaining shelf life (min):
50 %
Portions/consumer package:
8
Net weight of consumer package:
0,2 kg
Gross weight of consumer package:
0,2072 kg
Measures of consumer unit:
223 X 90 X 13
Product description
Finland's most-loved chocolate since 1922. Its unique, smooth taste is guaranteed by using only the very best ingredients. The Karl Fazer Caramel Popcorn chocolate tablet represents an irresistible marriage of sweet and savory, brought about with crunchy caramel popcorn bits coupled with soft milk chocolate. All Fazer's delicious chocolates are made from 100% responsibly produced cocoa. Enjoy as a lovely snack on its own or with coffee.\n
Ingredients
MILK, sugar, cocoa butter, cocoa mass, corn, glucose syrup, BUTTER, sunflower oil, emulsifier (SOYA lecithin), salt, sea salt, flavourings. MAY CONTAIN NUTS, ALMONDS AND CEREALS CONTAINING GLUTEN. In milk chocolate cocoa solids 30% minimum.
Allergenes
Nut and almond
May contain
Suitable for diets
Other features
Free from gelatine (beef)
Free from gelatine (pork)
Free from coloring agents