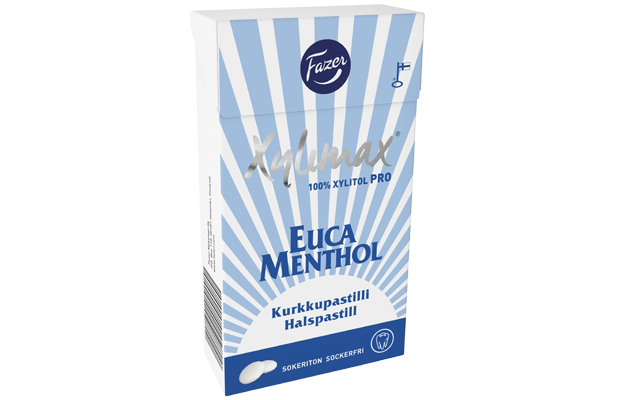 GTIN (EAN):
Xylimax Eucamenthol Full xylitol pastilles 38 g
Sign in or register to see price details and place an order.
Sign in
Register
Product details
GTIN (EAN):
6416453034570
Organization:
Fazer Confectionery
Name of the food:
full xylitol pastill
Net weight of sales unit:
0,76 kg
Gross weight of sales unit:
0,88 kg
Measures of sales unit:
100 X 98 X 176
Remaining shelf life (min):
50 %
Portions/consumer package:
40
Net weight of consumer package:
0,038 kg
Gross weight of consumer package:
0,043 kg
Measures of consumer unit:
47 X 84 X 19
Full pallet contains:
192 sales units

Product description
Finnish Xylimax full-xylitol pastilles bring freshness to your life. Xylimax Eucamenthol is a fully xylitol-sweetened, fresh eucalyptus- and menthol-flavoured, oval-shaped pastille. The pastilles come in a handy packet, and it is easy to pop a couple into your mouth after a meal to protect your teeth. They also help ease a sore throat or dry mouth. Sweetened with Fazer Xylitol sweetener, which is sustainably made from oat hulls from our own mill.
Ingredients
sweetener (xylitol (incl. xylitol from OATS)) 94%, firming agents (E470a, E466), thickener (E414), natural flavourings, glazing agent (E903). Excessive consumption may produce laxative effects. Gluten free.
Allergenes
Nut and almond
Doesn't contain
Suitable for diets
Other features